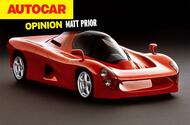 Yamaha OX99-11 pre-dates other F1-inspired road cars but never really worked
Prior recounts an obsession with Yamaha's OX99-11 and its modern equivalent; is amazed at the V8's longevity
The first car I thought of when I saw the new Mazda Iconic SP concept was, well, itself, obviously. 
But the next one, almost immediately, was the Yamaha OX99-11, another sports car from Japan that was studio-photographed in red and featured the dreamiest kinds of curves.
It had a 3.5-litre V12 engine, which Yamaha supplied to Jordan for its 1992 Formula 1 race car, and a carbonfibre monocoque to go around it, with a central driving position and space for a passenger to sit behind.
It was F1 technology for the road a few years before the Ferrari F50 and way before the Mercedes-AMG One (see our 13 May 1992 issue if you want more details).
Alas, though, they couldn't get it to work. Shame. I'd never wanted a car more. Three prototypes apparently exist(ed).
Motorcycle manufacturer and automotive-engine maker of some repute Yamaha has dabbled with the idea of making cars a few times since. It showed some concepts based around Gordon Murray's iStream production process in the 2010s.
The Sports Ride concept (seen at the 2015 Tokyo show) looked particularly cool. But later they decided, again, that they couldn't pull it off, because while cars "had great appeal for us as enthusiasts, the marketplace is particularly difficult", as the firm's bosses told us in 2019.
Still, Yamaha is back in our world, of a fashion, with the Tricera concept. And, as you can see, it's not a racing machine for the road this time. The trike is said to be about "exciting urban mobility: when one's body and mind and the machine become an organic whole".
Okay, whatever. There are some interesting things about it, though. For one, it's electric, and while I don't know any more details than that (possibly because there aren't any), one of the drawbacks to electric motorcycles is that the batteries are small, so the ranges are short and/or it's hard to charge them quickly.
A trike can carry a larger battery, which would overcome some of those hurdles. Mounted low, it might also counter another of a trike's potential issues: instability.
But there's more. The Tricera has a rear wheel that steers, as well as the fronts. At low speeds, it can countersteer for a better turning circle. At higher speeds, it steers in line for more stability; its driver/rider can even disable or manually control it.
With the right kind of electronic controls, it could be an interesting machine. Or at least an interesting technology testbed.
I expect to see it in production about as much as I expect to see an Iconic SP. Which is to say I don't expect it very much. But I expect it more than I ever did to see an OX99-11.
A refreshing radio advert with twin-turbo V8s
A radio advert piqued my interest yesterday. I hadn't heard it before, so if it's an old one, apologies. I don't listen to the radio often, but I wanted some 1980s hits (the best musical decade since the 1790s and I won't hear different).
Anyway, it was for a lottery, based on where you live, I think, with big cash prizes so you could spend happily on this or that or the other or, and here's where my ears pricked up, "even that twin-turbo V8!".
Wow. Obviously I think it's terrific that people still aspire to own twin-turbo V8s. And it neatly encapsulated the idea of a luxurious or fast car without specifying a brand or type (could be a 4×4, could be a supercar).
But given that the idea of enjoying a car gets such a hard time, I hadn't realised "twin-turbo V8" would be perceived as both widely understood and widely desirable. Maybe I'll enter. Although I'd want to spend my winnings on a particular 3.5-litre V12.