1944
She passed all along a room a bottle
of currant juice, it went 'from hand to hand
along all the stretchers,' she wrote,
some twenty-five or more, and came back
'still half-full.' Someone helped his neighbor
to drink, since he had 'no hands.'
The battle of Arnhem—and pressed in her house
by the river there lay three hundred
or more, one doctor, one orderly.
The children sheltered in the cellar. She
attended the men, read the English psalms
to them, 'Surely he shall deliver thee
from the snare of the fowler,' she read,
'He shall cover thee with his feathers,
and under his wings shalt thou trust.'
She returned to the cellar.
'What a long time you have been away,'
her daughter said, and asked for her doll's
white linen. Again she climbed the stairs
and at the top she found 'a whole piece
of the wall under the window…
blown away,' the wounded with it.
_________________________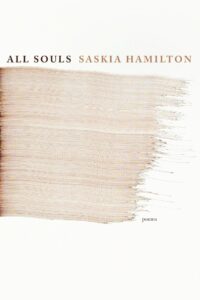 Excerpted from All Souls: Poems by Saskia Hamilton. Copyright © 2023. Available from Graywolf Press.
---