[ad_1]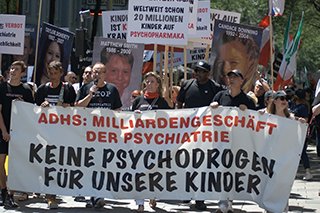 At the annual congress of the World Psychiatric Association, Citizens Commission on Human Rights (CCHR) demanded the end of coercive psychiatry including the use of ECT, constraints and involuntary commitment.
As the World Psychiatric Association (WPA) convened its annual congress in Vienna, hundreds of activists from Citizens Commission on Human Rights Austria and chapters across Europe marched through the streets, insisting psychiatrists immediately cease their use of ECT (electroconvulsive treatment) and all coercive and harmful practices in the field of mental health. 
In an open letter to the President of the WPA, CCHR Austria demanded the adoption of recent World Health Organization guidelines that call for ending all "coercive
practices in mental health care" that "contradict international human rights law" and "can
inflict severe pain and suffering on a person with long-lasting physical and
mental health consequences, which can impede recovery and lead to substantial
trauma and even death."
The letter also reminded the WPA of its duty to enforce the renunciation of coercive practices by its members.
CCHR marched to the convention center where the WPA Congress was convened chanting slogans that emphasized their demands. At the convention center, where CCHR erected its traveling exhibit, Psychiatry: An Industry of Death, visitors learned the dark history of psychiatry and the destruction it wreaks on society, from the use of ECT and psychosurgery to psychiatry's promoting the false doctrines of eugenics and its role in the Holocaust. Among those touring the exhibit were psychiatrists from countries including the UK, India, the U.S., Spain, Germany, Austria and Italy.
The CCHR documentary Therapy or Torture: The Truth about Electroshock screened throughout the three-day congress on a huge jumbotron. 
Among the organizers of the CCHR protest and exhibit were human rights advocates featured in episodes of Voices for Humanity on the Scientology Network:
János Dobos and Klára Hídvégi who fight the corruption of the psychiatric industry and its abusive practices in Hungary, and
Bernd Trepping and Nicola Cramer who have taken on the psychiatric industry in the country where it all began, Germany, exposing its present-day manipulation and crimes committed in the name of "science," including the Holocaust.
The Scientology Network also airs CCHR documentaries, including the film that was featured at the demonstration in Vienna, Therapy or Torture: The Truth about Electroshock.
The Scientology Network debuted in March 2018. Since launching, it has been viewed in over 240 countries and territories in 17 languages. Satisfying the curiosity of people about the Scientology religion and Founder L. Ron Hubbard, the network takes viewers across six continents, spotlighting the everyday lives of Scientologists, showing the Church as a global organization, and presenting its social betterment programs that have touched the lives of millions worldwide.

Scientology Network is available on DIRECTV Channel 320, DIRECTV STREAM, AT&T U-verse and streams at Scientology.tv, on mobile apps and via the Roku, Amazon Fire and Apple TV platforms.
[ad_2]

Source link