[ad_1]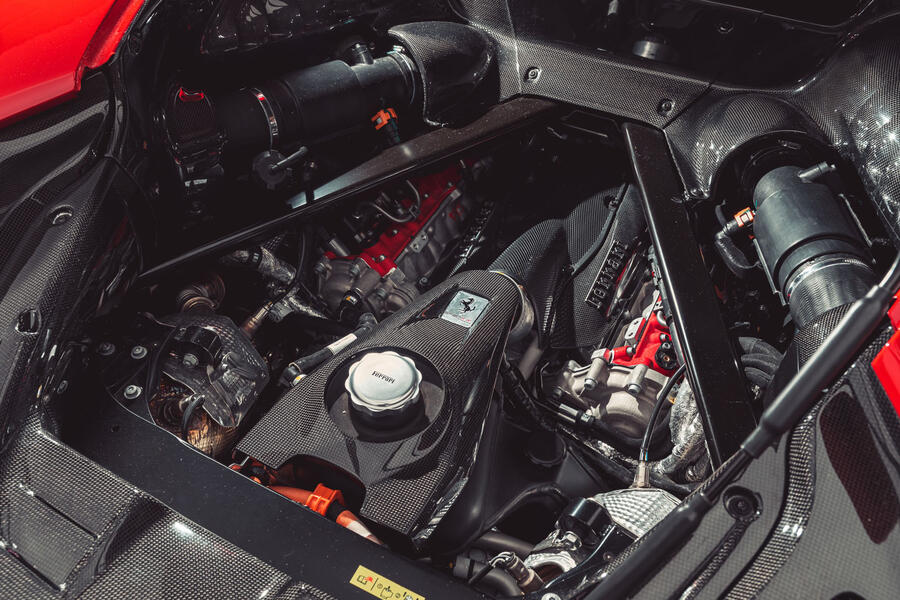 Specifically, the XX gets an extra thirty horsepower for its twin-turbo-V8-cum-three-AC-motor hybrid powertrain: seventeen of them courtesy of a new engine piston crown design and higher compression ratio, the other thirteen from a higher-output battery, with the whole powertrain benefitting from a redesigned, upwards-routed 'S-Duct' radiator concept up front. 
The car gets lowered, stiffened coil springs and retuned axle kinematics, too (the XX, like the regular SF90, can be had with either standard magnetorheological adaptive dampers or Multimatic's special track-spec passive dampers). Modified sound resonators within the engine bay beef up the audible character of the V8 combustion engine; a recalibrated twin-clutch gearbox delivers more positive, dramatic shifts; and bigger rear brakes feature too, as well as a new 'ABS Evo' anti-lock braking system that enhances the car's stability and handling on turn in.
But, mostly, the SF90 XX gets downforce. The fixed wing on the car's rump is the obvious addition – and it's the first to appear on a Ferrari road car since the F50 in 1995; but really, that's just the novelty topper on the cake. There are new diffusers front and rear; a new floor design with bigger vortex generators, to better manage the airflow around the wheels; and then the new wheel arch louvres and various cooling outlets, to evacuate pressure and temperature from where it hurts the car, and direct it to where it helps.
It's the kind of fine-detail aero that takes months of CFD modelling to perfect; months, very likely, that Ferrari simply didn't have in time to benefit the original SF90. When you see how it all works and interacts, it's a really beautiful thing; as little as it may actually improve the performance of the car when it's not on a circuit.
When it is, however, the SF90 XX Stradale benefits from some 540kg of downforce at 155mph. Not quite McLaren Senna levels, then; but mighty all the same.
[ad_2]

Source link