[ad_1]

Dressed in a sultry, floor-length white dress, a white flower pinned behind her right ear, Dawn Atkins took the stage in February to perform Martha Graham's contemporary ballet "Diversion of Angels" for Miami City Ballet (MCB). The performance, a story that unfolds through three stages of romantic love—each stage represented by women dressed in different colored gowns—was somewhat uncharacteristic for MCB given the company's more traditional roots in George Balanchine.
Gone were Atkins' tights, pointe shoes and classic repertoire. She performed instead in her bare feet, her arms shaped into repeating geometric right angles. Movements were staggered and more measured, with moments of effortless fluidity. Graham's more modern, raw style accentuated Atkins' versatility and soul as a dancer.
When Atkins exited the stage, she was hugged by Lourdes Lopez, artistic director of Miami City Ballet. Ordinarily a post-performance exchange like this would have included a congratulatory remark or a slight critique. But this time was different. Lopez held Atkins' hands and squeezed them, looking her square in the eyes.
Then, she uttered a single word: "Principal."
She had been elevated from principal soloist to the highest position a performer can reach in a professional ballet company—principal dancer, beginning with the 2023-2024 season. It was the bullseye for which Dawn had been aiming since she first set foot in a dance studio at age 5, the culmination of decades of tireless training, daily discipline and occasional bloody toes crammed into pointe shoes.
With one single word, Lopez made Atkins' lifelong vision come true.
"It was one of the coolest moments of my life," Atkins recalls.
After she finished crying, Atkins FaceTimed her sister and mother. They'd watched Atkins chase her dream with dogged determination since she was a child.
"You did it," her sister said.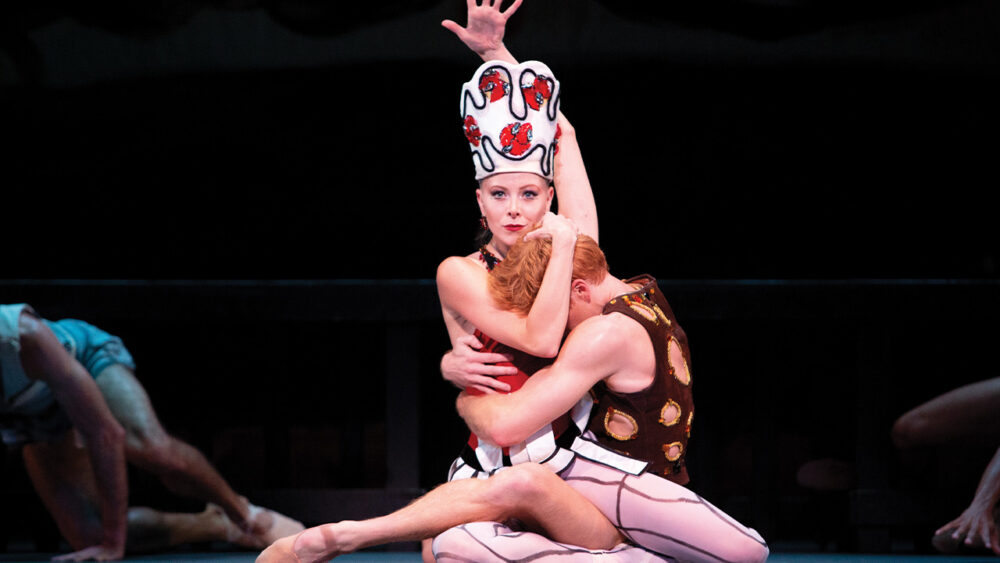 As a young girl, Atkins was homeschooled and started dancing in a small studio in Vermont. Then, around age 10, her family moved to Virginia where she was thrust into a public school with 2,000 students. She enrolled in a dance studio with a much larger body called Richmond Ballet. Soon, Atkins was dancing every day, including weekends during "Nutcracker" season, and sometimes before school.
"The balance between going to school, and then going to a different place for dance started to get hard," Atkins, now 29, remembers. "I was doing all my homework in the car. I wasn't hanging out with my school friends. I couldn't do anything school related. I left school early every day for ballet."
Atkins' mother saw that perhaps her daughter needed a different approach.
The University of North Carolina School of the Arts (UNCSA) had a program geared for high school students pursuing dance. The director of the school, Ethan Stiefel, is a globally celebrated, charismatic dancer pop-culturally known for his acting role as the zealous dance teacher in the 1990s blockbuster film "Center Stage." He was a principal dancer with the prestigious American Ballet Theatre and the artistic director of the Royal New Zealand Ballet. Atkins' choice to audition for Stiefel would reframe her interest and dedication to dance.
"I think [Stiefel] might've offered me the scholarship right after the audition," Atkins says. "I was like, 'Of course! This is crazy!' He was such a demanding teacher but so inspirational at the same time."
Stiefel bred in his dancers a deep-rooted rigor.
"One day he said, 'I always wonder if I had just worked a little bit harder each day, or just one of the days, where would I be now?' And I remember thinking, 'That's ridiculous. He's one of the best male dancers ever in the entire world.' But it really shaped a work ethic for me. There's always room to work harder."
Her hard work at UNCSA paid dividends in 2011 when, right out of high school, Atkins was offered a spot as a trainee at Boston Ballet under the directorship of Margaret Tracy (a former principal dancer for New York City Ballet). The school is known for its classical foundations in Balanchine, which took Atkins' technical precision to the next level. It later benefited her when she auditioned for MCB. It was in Boston that Atkins transitioned from student to professional. She moved up to artist of the company in 2013 and second soloist in 2019.
While Atkins' goal of becoming a professional dancer was underway, another fairytale was unfolding. Returning home from the dance studio each night, she would run into a kind and attractive neighbor in the elevator of her apartment building. They'd chat. He worked in finance. Before long, they began dating. Atkins began touring with Boston Ballet, including a program in Paris. Straight out of a Hollywood romance, the neighbor-turned-boyfriend joined her. He proposed close to the Eiffel tower. In June 2022, roughly 10 years after they met, Atkins and her fiancé, Edsall Hilty, married along the Seine River.
Hilty, who knew nothing about ballet when the couple first met (he desperately called a friend's wife, early on, and asked her to tell him everything she knew about dance) has since been to 16 "Nutcracker" performances.
"He's amazing," Atkins says with a laugh. "It's so cool to hear the things he notices [about dance] that I've taken for granted."
The couple relocated to South Florida in 2021 where Atkins auditioned for MCB. She advanced from soloist to principal soloist to principal dancer in just two years.
On an almost daily basis, Atkins leaves her husband and two dogs (her "favorite topic")—a golden retriever named Duke and a Boston terrier pug mix named Chappy—at their home in West Palm Beach to board the Brightline train and commute to Miami for dance rehearsal. Ninety minutes of technique class precede six hours of rehearsal with a short lunch break in the middle. The 2023-2024 company, which is comprised of 12 principal dancers, three principal soloists, five soloists and 28 corps de ballet, have become "like family," Atkins says.
"The atmosphere among the dancers is really special here at Miami City Ballet," she says. "It feels like people genuinely support each other. If someone's doing a really hard piece and it's a section where they get really tired, you can hear the support cheering from the sides of the room. … I think that's so important. It's such a hard profession. We take our work really seriously, but we also have fun with it."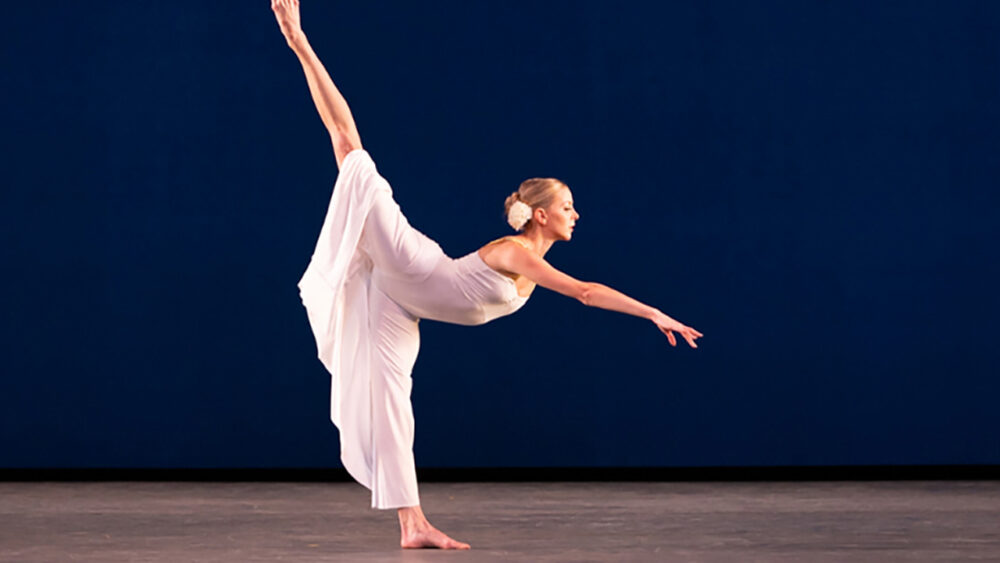 Another thing she loves about MCB: artistic director Lopez.
"It's special to work for a female artistic director," she says. "She [Lopez] was a principal in New York City Ballet, so she can relate to the female dancer in such a close way that I think contributes to how she runs the company. And it's probably part of the reason the culture is as positive as it is."
A nurturing culture, Atkins says, is essential, especially for an art form that takes such a toll on every aspect of one's life. Self-care, she says, has also become increasingly important as she envisions her life long-term.
"This career is fleeting. I had to ask myself, 'Am I a whole person beyond that?' It [dance] requires so much dedication. It's easy to leave everything else out in the dark," she says. "I've really started prioritizing being a whole person. I enrolled in Northeastern University, got my degree there, and earned my real estate license. It's important to develop yourself socially and have a support system beyond the studio."
For this year, however, Atkins will focus on savoring the sweet fruits of her lifelong labor in her new role as principal dancer.
"You don't think about what it's actually going to be like when you achieve your dream. You just work toward achieving it," she says. "So, now, I want to just be in this moment, knowing that I've achieved my goal."
Photo credits: Alexander Iziliaev
The 2023-24 Season
Miami City Ballet's upcoming season promises the full spectrum of ballet—modern works, contemporary programs and traditional masterpieces. There will be multiple world premieres of new works along with  beloved classics. Performances are staged at three venues throughout South Florida—Kravis Center for the Performing Arts in West Palm Beach (701 Okeechobee Blvd.), Broward Center for the Performing Arts in Fort Lauderdale (201 SW Fifth Ave.) and Adrienne Arsht Center for the Performing Arts in Miami (1300 Biscayne Blvd.).
The 2023-24 schedule includes:
              • George Balanchine's "The Nutcracker": More than 100 dancers perform this holiday classic against a backdrop of Tchaikovsky music, wintery sets and dazzling costumes. Dates: Dec. 8-10 at Broward Center; Dec. 15-24 at Arsht Center; Dec. 28-30 at Kravis Center.
              • Winter Mix: Two world premieres by choreographers with local connections highlight this program. "Analogo" by Miami-born Margarita Armas and "Paganini, In Play" by MCB School resident choreographer Durante Verzola both debut along with "Firebird" (the reimagining of a 2019-20 smash) and "Concerto DSCH" (an acclaimed work by Alexei Ratmansky). Dates: Feb. 3-4 at Kravis Center; Feb. 9-11 at Arsht Center; Feb. 17-18 at Broward Center.
              • Spring Mix: Along with the world premiere of "Delight" from Brazilian choreographer Ricardo Amarante, MCB presents George Balanchine's "Agon" (with a groundbreaking score by Stravinsky) and "Following the Subtle Current Upstream" from Alonzo King. Dates: March 8-10 at Arsht Center; March 23-24 at Kravis Center.
              • "Swan Lake": The reinterpretation of this classic by Alexei Ratmansky features more than 50 MCB dancers and Tchaikoveky's legendary score performed by a live orchestra. Dates: April 18-21 at Arsht Center; April 25-28 at Broward Center; May 10-12 at Kravis Center.
Visit miamicityballet.org/2324season for ticket information and program details.


[ad_2]

Source link