[ad_1]

Novelty puddle lights, which typically shine a brand logo onto the ground as you unlock the car, have been fairly common features of mid-market cars looking to make an impression for a while now.
The Ateca's problem, however, is that it's no longer very clear what kind of impression it's trying to make. Before Cupra came along, it might have shone some mildly racy car animation on the darkened ground, but instead it simply projects the word 'Hola' onto the pavement as you unlock it, the word presented in a large but otherwise blank, plain and stark-looking circle of light.
Once on the other side of the door, you find yourself in a cabin that seems competitively spacious and comfy by current compact SUV standards. Six-foot adults can sit comfortably one behind another, the back seats offering plenty of head room and decent – if not quite class-leading – leg room.
Meanwhile, there are two USB-C charging ports for those in the back, as well as usefully large door pockets, and a fold-down centre armrest with integrated cupholders.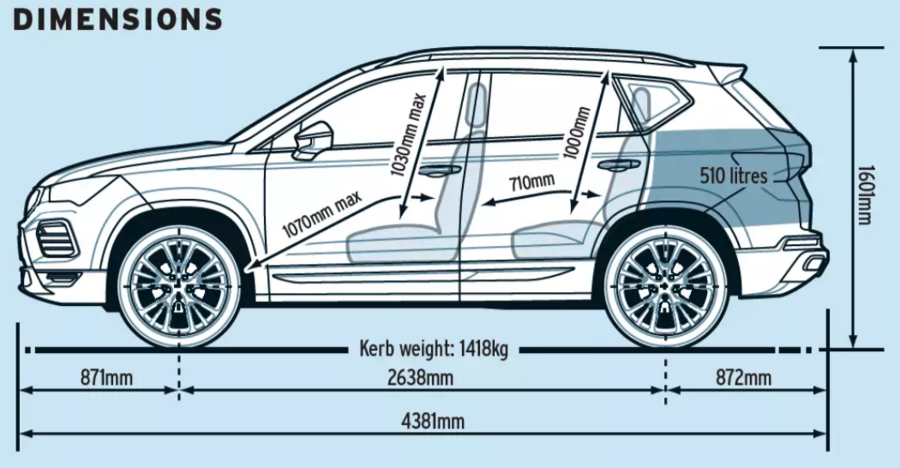 Boot space is also fairly generous. Our car did without a split-level boot floor, but it did carry a spacesaver spare wheel and it made room for 910mm of loading height above, as well as up to 1.6m of loading length with the rear seatbacks (which fold 40/60) stowed down.
In the front, the driving position is typically raised but sound, on top of comfortable leather sports seats with decent lateral support.
The Ateca's primary and secondary controls are quite simple. It has a sensibly sized conventional lever for a gear selector; fixed and physical ventilation and heating controls; just enough steering-hub switchgear to be useful but not so much as to bamboozle; and digital instrumentation that is, in the main, simple, readable and clear.
If the cabin has a problem, it's that – even in this upper-level model – it looks and feels a little plain and unlovely. Hard, shiny, grey plastic mouldings are found quite widely across the door consoles, fascia and centre console and do little to lift the ambience above the functional.
You can see, here at least, why a Seat regular would jump at the chance of upgrading to that much nicer Cupra across the showroom.
Multimedia system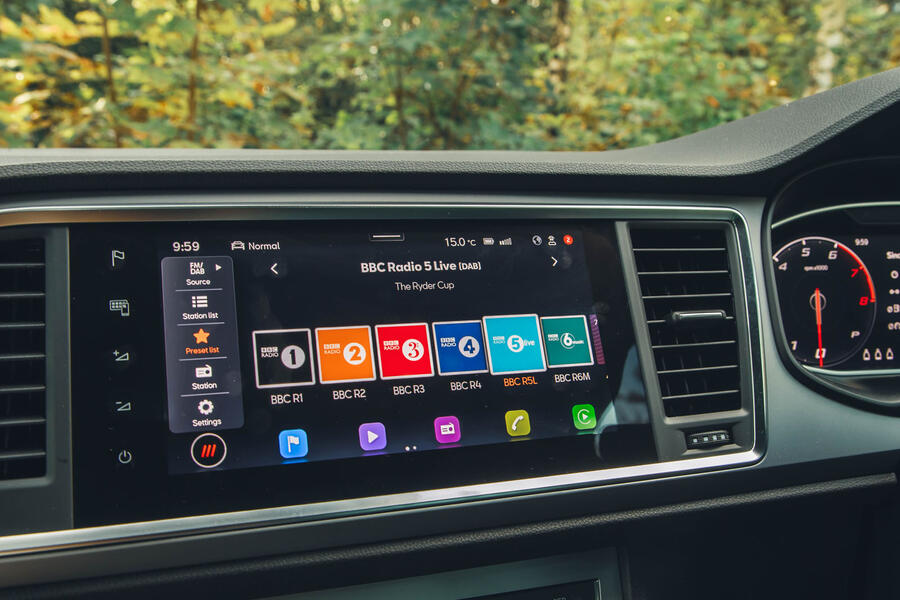 The entry-level Ateca gets an 8.0in digital instrument pack and an 8.3in touchscreen infotainment system without factory navigation, but that does offer full wireless smartphone mirroring.
Our FR Black Edition car, at the opposite end of the scale, has a 10.0in instrument screen and 9.0in infotainment system with a networked navigation system of its own.
Because it's an older model, the car avoids the Volkswagen Group's latest MIB infotainment technology, with its much criticised slider controls and usability quirks. Although the system the car does get is quite clearly laid out for left-hand-drive access, it's simple enough to operate and works quite well – but you do often have to penetrate through lots of layers of menus to achieve quite simple things.
The FR Black Edition gets a nine-speaker Beats Audio stereo as standard (340W, subwoofer, surround sound). For clarity, it's not exactly cutting edge and it has a lot of road noise to compete with, but it's powerful enough to drown out the drone.
[ad_2]

Source link